Chicago Yarn Crawl 2021
Welcome to the 2021 Chicago Yarn Crawl! We've created this event page to help you navigate your way through and to make sure you don't miss anything.
Be sure to head over to the official Chicago Yarn Crawl page to get all of the general guidelines and to register so you are eligible to win one of our amazing prize baskets! You'll want to make sure you download your passport there (it's right on the main page). Our shop will stamp it for you if you'd like!
The crawl takes place from Saturday, July 31st through Sunday, August 8th, and our shop hours are:
Saturday (July 31st) 10am-6pm
Sunday (Aug 1st) 12pm-6pm
Monday 12pm-6pm
Tuesday 12pm-6pm
Wednesday 12pm-6pm
Thursday 12pm-8pm
Friday 12pm-6pm
Saturday (Aug 7th) 12pm-6pm
Sunday (Aug 8th) 12pm-6pm
All regular-priced yarn will be 10% off through the entire event! If you are shopping online, please use yarncrawl2021 when you check out to receive the discount.
Totes are still available!
The tote bags can be purchased on our website and in store. Our zipper project bags are sold out, but check the main crawl page to see if they have any left!
Free buttons are available at each shop for you to adorn your tote with!
We will include one with all shipping orders, and you can also order a full button pack on the Chicago Yarn Crawl website if you would like the full collection but can't crawl to every shop in person.
We filmed our Instagram Live with Naima Bond and Miss Purl on Saturday evening, July 31st.
Go to our Instagram and find the video in our recent feed, watch and learn how to enter to win some amazing prizes!
Speaking of prizes, our shop will be giving away two amazing raffle baskets. For those of you who visit our shop in person, you'll be able to enter our raffle to win our shop's special basket of yarn! Everyone, local or not, has chance to win this huge basket of goodies from our sponsors shown below:
Make sure you are registered for the crawl on the Chicago Yarn Crawl website first. We will be going Live on Instagram during or right after our happy hour event shown above, so tune in for details on how to enter. Don't worry if you can't tune in live because we will post the event to our feed afterwards!
We are featuring three free
patterns
for our event. Our shawls use Sister Ananse yarn from Naima Bond, and are both inspired by the spider fable that inspired her business. Scroll down to see our knit and crochet shawls: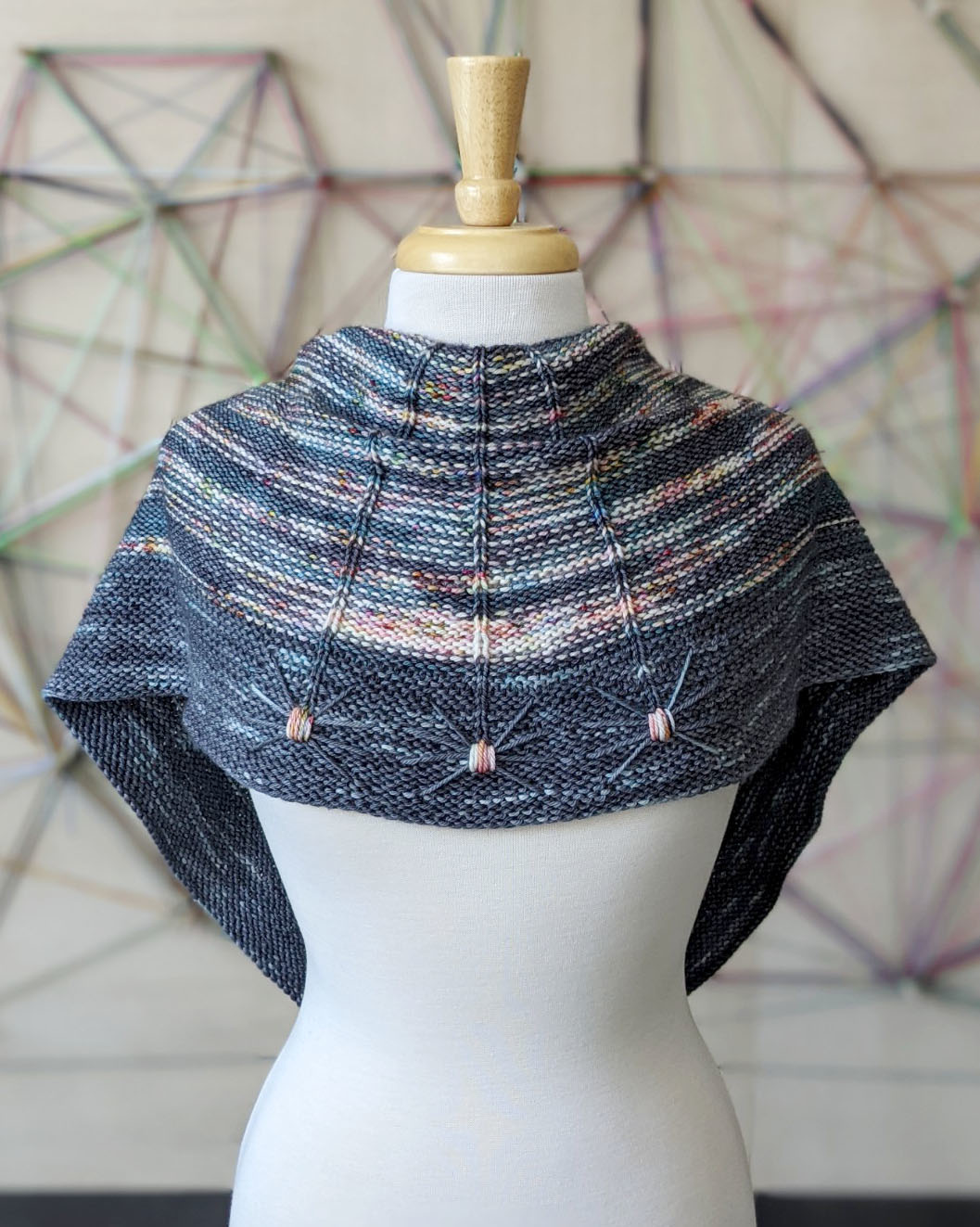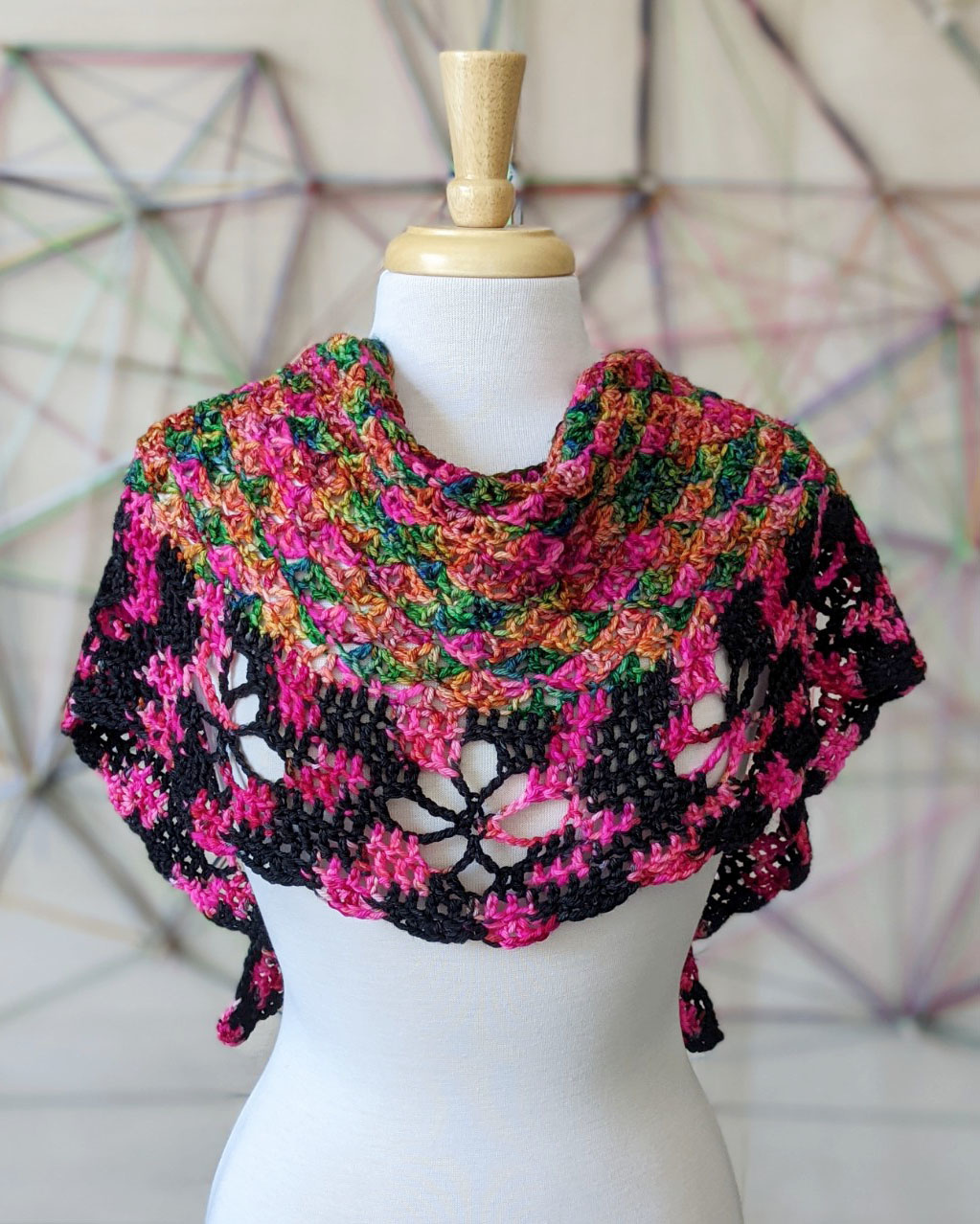 These patterns are
free
and the kits for them will be available in our shop and on our
website
throughout the crawl. Our knit pattern on top uses the "stormy warm" kit and the crochet shawl uses "spectrum pink." The kits qualify for the 10% off yarn discount (use code
yarncrawl2021
), so go grab yours
here
!
We've also got another free
pattern
if you feel like making something a bit smaller and different:
This cute little pouch uses just two balls of Gedifra
Elba
and is quick and easy to make! All three of these patterns will be available on our website as a
free download
throughout the entire crawl.
Please feel free to reach out to us with any questions and we look forward to seeing you as you crawl your way through the Chicago area yarn shops!