Two-at-a-Time Toe-Up Socks
Saturdays, October 14th & 28th from 4pm - 5:30pm - click here to register
$60 plus supplies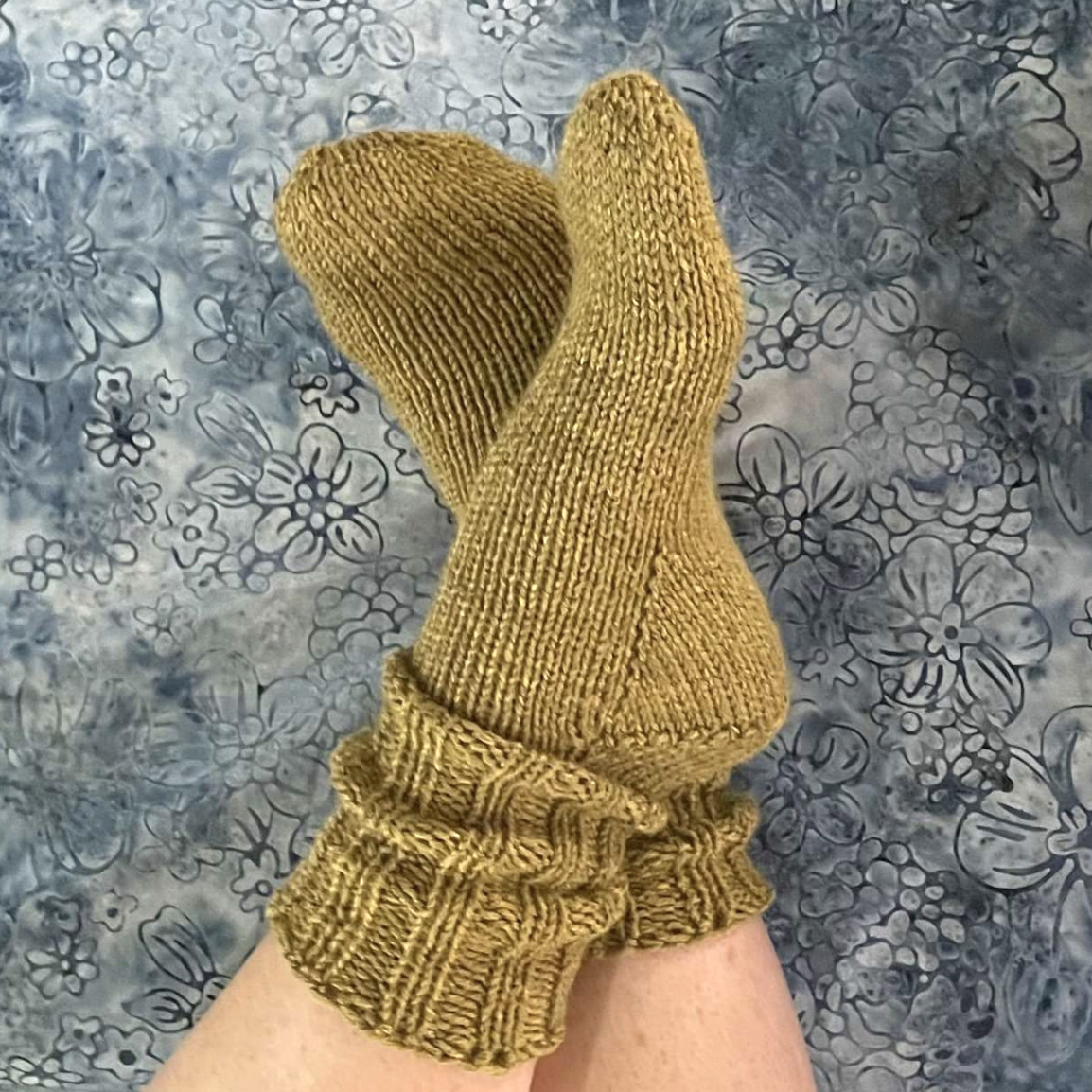 ©Finicky Creations
Avoid second sock syndrome by making both socks at once! The magic loop technique is an amazing alternative to using double-pointed needles, and being able to work two socks at a time is incredibly satisfying. In this class, we're going to make some cozy worsted weight slipper socks. Using a slightly thicker yarn for your first pair will make it much easier to focus on all the new techniques you are going to learn!
For this class, we are using the Cozy Chillin' Socks pattern by Michelle Higgins of Finicky Creations.
Part 1 of this class will teach you the Turkish cast-on and increasing for seamless toes. We will also discuss how to choose the correct size for the feet you are knitting for. Your homework after part one will be to finish the foot of the sock. When we reconvene for part 2, we will fully tackle the gusset heel construction and make sure all of your questions are answered. You will be able to go home and complete your pair of socks on your own!
Supplies are additional and should be picked out in advance of class. It's ok to just show up about 15-20 minutes early to choose your yarn! You'll need roughly between 200 and 400 yards of worsted weight yarn, depending on the size you choose and how high you want to make your cuff. We recommend a superwash wool such as Movers & Makers Wicker Park Worsted, Fuzz Family Auntie Afghan, or Malabrigo Rios. You'll also need a size US 5 circular needle in a 40" length. A flexible cord works best for the magic loop technique, so we recommend Addi Rockets or Rockets Squared. If you prefer wood needles and are a Lykke fan, you can get size 5 needle tips and a clear swivel cord here. 
 **It is recommended that students are comfortable with knitting and purling, as well as basic increases and decreases. Prior experience with double points will be helpful but isn't required.
Please be sure to view our class policies here.