The Mother Bear Project has been near and dear to our shop for a long time! We first ran this project over 10 years ago, and then did it again a few years after that because it was such a hit. Here's a group of bears from one of those earlier rounds: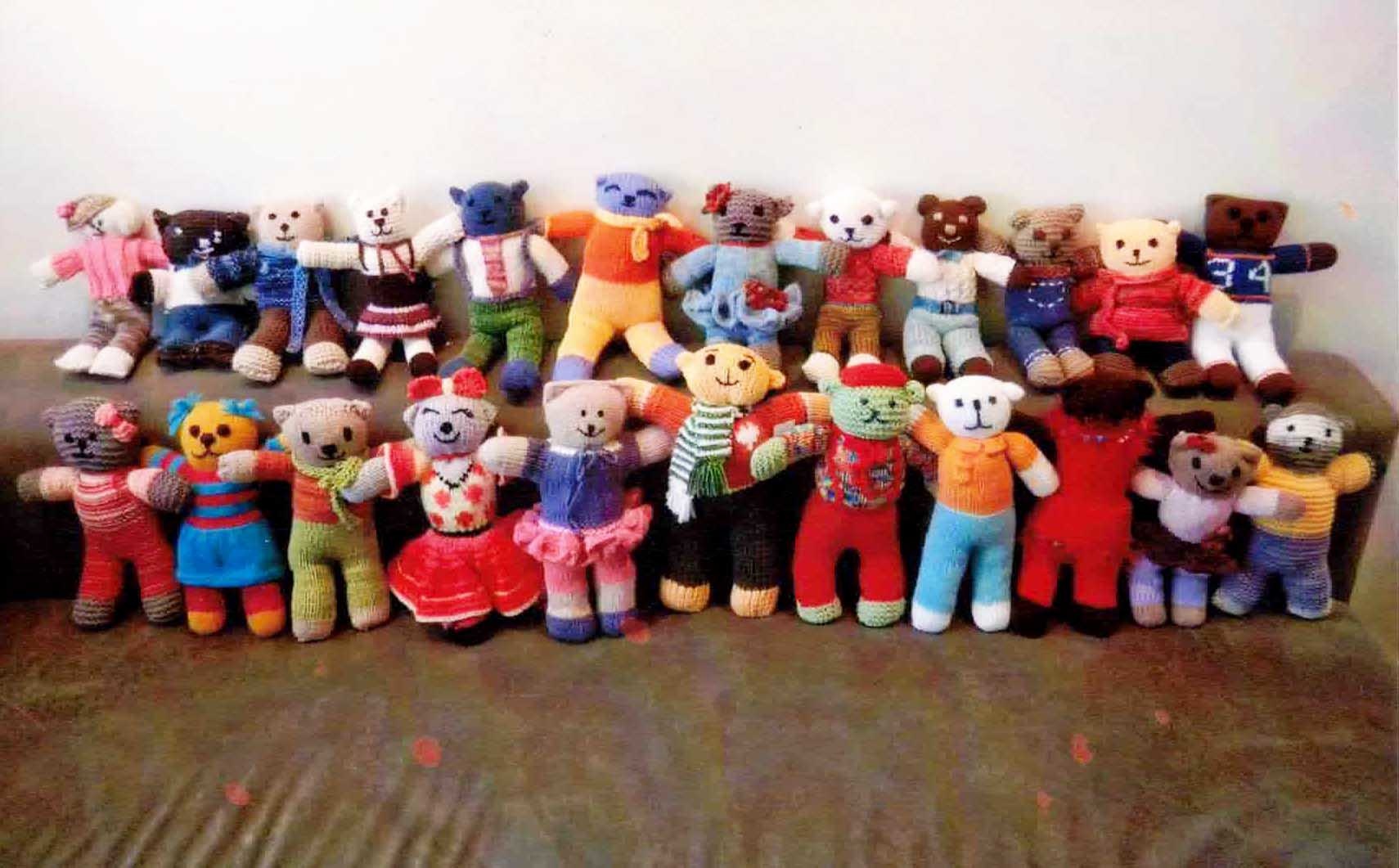 We've decided to team up with Miss Purl to tackle this project again!
Making one of these bears is super easy. Anyone with basic crochet and knit skills can do it! The pattern is available for knitters and crocheters, both flat and in the round. Please head directly to The Mother Bear Project website to purchase your pattern. The small donation that you make with your pattern purchase covers all the costs associated with getting the bear shipped to its recipient. They will mail your pattern to you, and then you can get started!
While you are waiting for your pattern to arrive, head to our shop or to Miss Purl to pick up some yarn that has generously been donated by Blue Sky Fibers, Knitting Fever, as well as some fiber friends of Miss Purl including Alyn Beauchamp, Jan Cornelius, Sabrina Wagoner and Arety Economou. Making a bear is also an incredible way to stash bust. You'll need worsted weight, but fingering weight doubled also works perfectly. Anything durable will work! The basic bear takes roughly 150 grams of yarn in three colors. We've also got some stuffing at our shop that was generously donated to us, so pick up some of that, too!
You can follow your pattern exactly or you can get really creative with it. Feel free to check out the gallery of bears for ideas on the Mother Bear Project website.
Stay tuned for more details... as we get more folks involved in this project, we will keep updating this page. We hope to have some stitching events where we can come together and make bears as a group! Finished bears can be dropped off either to us or Miss Purl at anytime. All bears will need to be dropped off or sent into us by Sunday, August 7th, which is also the last day of the Chicago Yarn Crawl.
Please share your progress with us and be sure to use #themotherbearproject and tag us @nina_chicago & @misspurlchicago when posting on social media!