Our shop is honored to be taking part of the Welcome Blanket Project! The Welcome Blanket is a platform for engagement that transforms the abstract concept of immigration into a tangible crowd-sourced action. We invite all makers (knitters, crocheters, sewists all included) to make Welcome Blankets!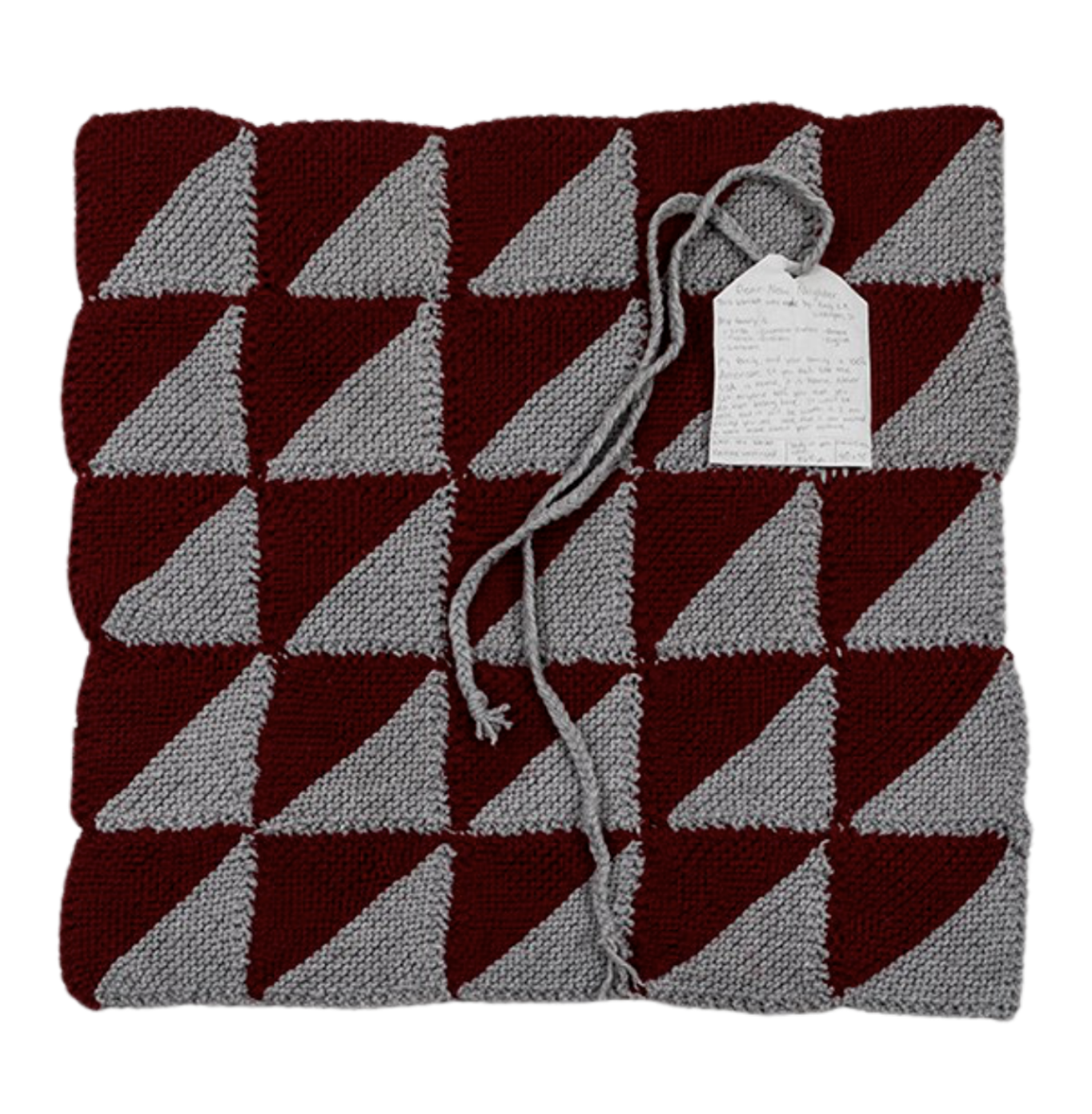 Originally, this project was designed to recast the 2000-mile distance of Trump's proposed barrier between Mexico and the United States into 2000 miles of handmade blankets. Representing the distance of the wall in lengths of yarn, participants across the United States and around the world created lap blankets and accompanying notes of welcome for new refugee neighbors. This craft-based response to the former administration's policies quickly exceeded our goal with over 6000 Welcome Blanket packages made and gifted.
Our commitment to just immigration policy and welcoming our newest neighbors is bigger than a singular response to one president or administration. Taking part in Welcome Blanket is a tangible way to recognize and celebrate our global humanity and to uphold a foundational premise that immigration is vital for the continuing vibrancy of our society and growth of our nation.
This project has developed an international network of people sharing stories and symbols of warmth. The act of hand making a blanket and then writing down our individual immigration/migration/relocation stories shift the paradigm of our newest waves of "refugees" from "others" to "one of us." It celebrates our complex individual and collective narratives. It stitches our individual histories to our shared future. Stitch by stitch, it knits us together. 
Welcome Blanket connects people across time and space through our diversity, individual histories, and shared humanity. The new goal: Let's blanket the circumference of the earth (24,901 miles that connects us all) with 36,521 blankets and notes. The hope is for the Welcome Blanket to become a new American tradition and for every refugee family to receive this symbolic and practical gesture. We hope you will join us in supporting this project! Scroll down for the details.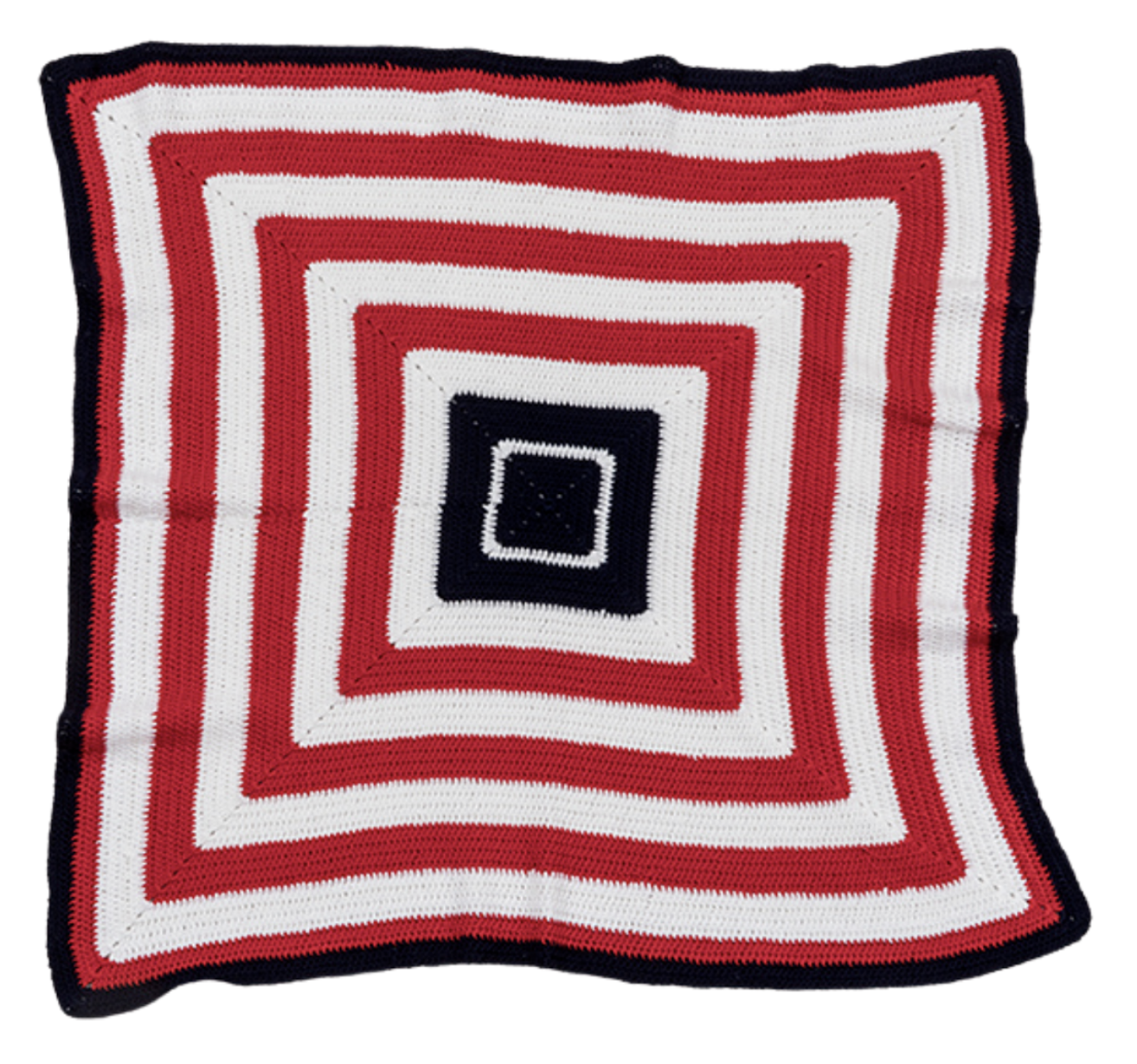 Ways to participate:
Make a Welcome Blanket and share your story.
• The design guidelines are 40" x 40" and easy to care for (machine-washable). All mediums and methods are welcome! It's both a great individual and group project. If you need help getting started, knit/crochet/quilt versions of the "Come Together" Pattern are here, and thousands of examples of Welcome Blankets are up in the online gallery of the Welcome Blanket website.
• For knit and crocheted blankets, bulky yarn is recommended. From our lines, we suggest Movers & Makers Wicker Park Bulky or Gedifra Cuor di Merino. Hilary is doing a simple patchwork garter stitch blanket and is using 8 skeins of Wicker Park Bulky, or approximately 872 yards. This blanket will consist of 16 total squares that each use half a skein. See more details on Hilary's progress below!
• With your completed blanket, please include a story that is important to you or your family about immigration, migration, or relocation with words of welcome for the family who will receive your gift. Here are some note templates to get you started.
• Let us know that you are purchasing yarn to make a Welcome Blanket, and we will help you choose yarn! All yarn purchased for a welcome blanket at our shop will be 20% off. If you would like to purchase yarn online to make a welcome blanket, use the code WELCOME20 to receive 20% off either of the yarns we recommended above. If you use this code, we will add you to our list of volunteers and follow up with you. You are also welcome to use stash! We will accept blankets made from any yarn that is suitable for the project, easy to care for. Please just let us know if you are joining the project!
• Finished blankets can be dropped off to us so we can get them to the Welcome Blanket Project. They are partnered with multiple refugee and immigrant resettlement agencies to coordinate distribution. We will be collecting blankets through the end of June.
Make a monetary donation for materials.
• All donations will go towards the purchase of yarn and fabric for Welcome Blankets, which we will distribute to our craft community for use. See donation options here.
• For more details about the Welcome Blanket Project, please go to their website. Use #welcomeblanket on social media to see other blankets and showcase your own!
Hilary is moving along on her simple patchwork blanket and is halfway done!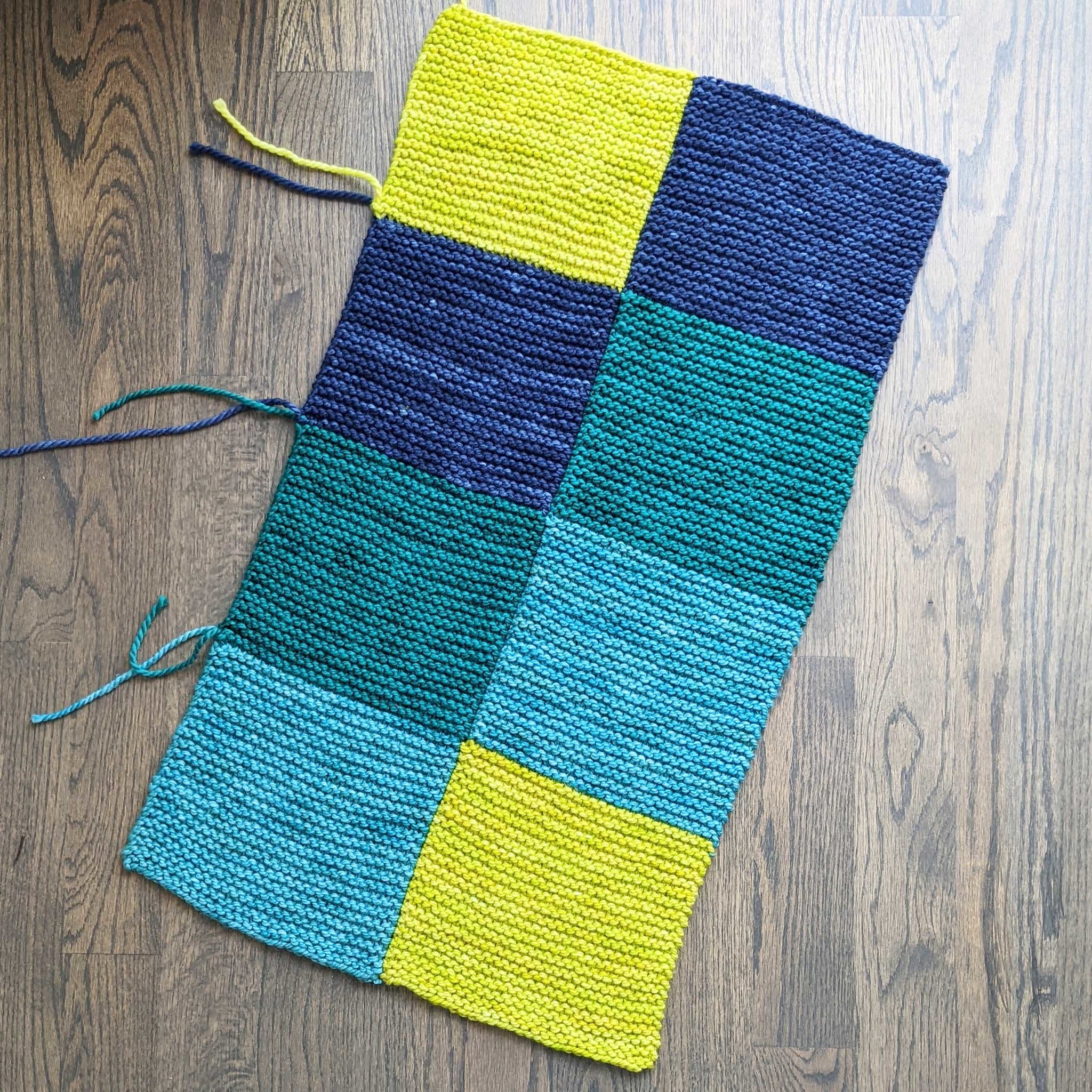 If you'd like to do a simple garter square blanket like this, you'll need 2 skeins each of 4 colors of Movers & Makers Wicker Park Bulky and size 11 US needles. For each square, Hilary cast on 30 stitches and knit a total of 44 rows so that each square has 22 garter ridges on each side. Rather than knitting each square separately, she is working in columns of 4 squares and then seaming up the long side. Here are her first two sections seamed together!